Flights, Arrivals & Departures at Brussels South Charleroi Airport
Origin
Airline
Flight no.
Scheduled
Est./Actual
Status
Iasi (IAS)
Wizz Air
W43661
07:00
Scheduled
Marseille (MRS)
Ryanair
FR4839
07:30
Scheduled
Cluj-Napoca (CLJ)
Wizz Air
W43351
07:45
Scheduled
Budapest (BUD)
Wizz Air
W62281
08:00
Scheduled
Skopje (SKP)
Wizz Air
W67717
08:15
Scheduled
Bologna (BLQ)
Malta Air
FR3938
08:20
Scheduled
Bucharest (OTP)
Wizz Air
W43081
08:30
Scheduled
Palma Mallorca (PMI)
Lauda Europe
FR7830
08:35
Scheduled
Warsaw (WAW)
Wizz Air
W61381
08:35
Scheduled
Krakow (KRK)
Ryanair
FR4935
08:45
Scheduled
Bergamo (BGY)
Ryanair
FR3659
09:10
Scheduled
Marrakech (RAK)
Ryanair
FR71
09:20
Scheduled
Prague (PRG)
Ryanair
FR69
09:25
Scheduled
Catania (CTA)
Wizz Air
W48211
09:45
Scheduled
Manchester (MAN)
Ryanair
FR613
10:35
Scheduled
Istanbul (SAW)
Pegasus
PC801
10:35
Scheduled
Porto (OPO)
Ryanair
FR1387
10:40
Scheduled
Agadir (AGA)
Ryanair
FR8173
10:50
Scheduled
Sevilla (SVQ)
Ryanair
FR6445
10:55
Scheduled
Pisa (PSA)
Ryanair
FR3746
11:10
Scheduled
Rome (CIA)
Ryanair
FR5068
11:20
Scheduled
Napoli (NAP)
Ryanair
FR1303
11:35
Scheduled
Manises (VLC)
Ryanair
FR1686
11:50
Scheduled
Bordeaux (BOD)
Ryanair
FR1389
12:05
Scheduled
Tirana (TIA)
Ryanair
FR8299
12:40
Scheduled
Alicante (ALC)
Ryanair
FR3533
13:15
Scheduled
Palermo (PMO)
Ryanair
FR6268
13:35
Scheduled
Sofia (SOF)
Wizz Air
W64327
13:35
Scheduled
Barcelona (BCN)
Ryanair
FR2834
14:05
Scheduled
Lisbon (LIS)
Ryanair
FR3609
15:35
Scheduled
Puerto del Rosario (FUE)
Ryanair
FR9724
15:35
Scheduled
Tenerife (TFS)
Ryanair
FR564
16:00
Scheduled
Bergamo (BGY)
Ryanair
FR4475
16:05
Scheduled
Essaouira (ESU)
Ryanair
FR5281
16:15
Scheduled
Manchester (MAN)
Ryanair
FR3222
16:20
Scheduled
Tangier (TNG)
Ryanair
FR8074
17:10
Scheduled
Malaga (AGP)
Ryanair
FR1915
17:35
Scheduled
Lisbon (LIS)
Ryanair
FR1301
18:55
Scheduled
Gudja (MLA)
Ryanair
FR2955
19:00
Scheduled
Vienna (VIE)
Ryanair
FR87
19:35
Scheduled
Budapest (BUD)
Ryanair
FR54
20:15
Scheduled
Edinburgh (EDI)
Ryanair
FR7322
20:15
Scheduled
Tirana (TIA)
Wizz Air Malta
W46625
20:15
Scheduled
Turin (TRN)
Ryanair
FR4865
20:55
Scheduled
Catania (CTA)
Ryanair
FR6084
21:00
Scheduled
Lanzarote (ACE)
Ryanair
FR8175
21:05
Scheduled
Rabat (RBA)
Ryanair
FR6933
21:10
Scheduled
Marseille (MRS)
Ryanair
FR6315
21:30
Scheduled
Treviso (TSF)
Ryanair
FR4939
21:40
Scheduled
Bari (BRI)
Ryanair
FR78
22:25
Scheduled
Rome (CIA)
Ryanair
FR9719
22:35
Scheduled
Cluj-Napoca (CLJ)
Ryanair
FR9546
22:50
Scheduled
Thessaloniki (SKG)
Ryanair
FR4998
22:50
Scheduled
Amman (AMM)
Ryanair
FR5105
22:55
Scheduled
Alicante (ALC)
Ryanair
FR9052
22:55
Scheduled
Vantaa (HEL)
Ryanair
FR9327
22:55
Scheduled
Oujda (OUD)
Ryanair
FR8775
22:55
Scheduled
Destination
Airline
Flight no.
Scheduled
Est./Actual
Status
Fuerteventura (FUE)
Ryanair
FR9723
06:30
Scheduled
Tenerife (TFS)
Ryanair
FR563
06:30
Scheduled
Naples (NAP)
Ryanair
FR1302
06:35
Scheduled
Rome (CIA)
Ryanair
FR5069
06:45
Scheduled
Valencia (VLC)
Ryanair
FR1687
06:45
Scheduled
Tirana (TIA)
Ryanair
FR8298
06:55
Scheduled
Manchester (MAN)
Ryanair
FR614
07:15
Scheduled
Iasi (IAS)
Wizz Air
W43662
07:35
Scheduled
Alicante (ALC)
Ryanair
FR3534
07:40
Scheduled
Marseille (MRS)
Ryanair
FR4838
07:55
Scheduled
Cluj-Napoca (CLJ)
Wizz Air
W43352
08:20
Scheduled
Essaouira (ESU)
Ryanair
FR5280
08:30
Scheduled
Budapest (BUD)
Wizz Air
W62282
08:35
Scheduled
Bologna (BLQ)
Malta Air
FR3939
08:45
Scheduled
Palma de Mallorca (PMI)
Lauda Europe
FR7831
09:00
Scheduled
Skopje (SKP)
Wizz Air
W67718
09:00
Scheduled
Krakow (KRK)
Ryanair
FR4934
09:10
Scheduled
Warsaw (WAW)
Wizz Air
W61382
09:10
Scheduled
Lisbon (LIS)
Ryanair
FR1300
09:15
Scheduled
Bucharest (OTP)
Wizz Air
W43082
09:15
Scheduled
Barcelona (BCN)
Ryanair
FR2835
09:20
Scheduled
Milan (BGY)
Ryanair
FR3660
09:35
Scheduled
Prague (PRG)
Ryanair
FR68
09:50
Scheduled
Marrakesh (RAK)
Ryanair
FR70
10:00
Scheduled
Catania (CTA)
Wizz Air
W48212
10:20
Scheduled
Tangier (TNG)
Ryanair
FR8073
10:45
Scheduled
Agadir (AGA)
Ryanair
FR8172
11:15
Scheduled
Malaga (AGP)
Ryanair
FR1916
11:25
Scheduled
Seville (SVQ)
Ryanair
FR6444
11:25
Scheduled
Istanbul (SAW)
Pegasus
PC802
11:30
Scheduled
Pisa (PSA)
Ryanair
FR3745
11:35
Scheduled
Porto (OPO)
Ryanair
FR1386
11:50
Scheduled
Lanzarote (ACE)
Ryanair
FR8174
12:10
Scheduled
Bordeaux (BOD)
Ryanair
FR1388
12:30
Scheduled
Milan (BGY)
Ryanair
FR4474
12:35
Scheduled
Amman (AMM)
Ryanair
FR5104
12:40
Scheduled
Manchester (MAN)
Ryanair
FR3223
13:05
Scheduled
Palermo (PMO)
Ryanair
FR6269
14:00
Scheduled
Sofia (SOF)
Wizz Air
W64328
14:10
Scheduled
Rabat (RBA)
Ryanair
FR6932
14:20
Scheduled
Catania (CTA)
Ryanair
FR6083
14:55
Scheduled
Oujda (OUD)
Ryanair
FR8774
16:30
Scheduled
Thessaloniki (SKG)
Ryanair
FR4997
16:35
Scheduled
Helsinki (HEL)
Ryanair
FR9328
16:50
Scheduled
Bari (BRI)
Ryanair
FR79
17:10
Scheduled
Alicante (ALC)
Ryanair
FR9053
17:20
Scheduled
Cluj-Napoca (CLJ)
Ryanair
FR9547
17:20
Scheduled
Rome (CIA)
Ryanair
FR9720
18:00
Scheduled
Venice (TSF)
Ryanair
FR4938
18:00
Scheduled
Malta (MLA)
Ryanair
FR2956
19:25
Scheduled
Lisbon (LIS)
Ryanair
FR3610
19:30
Scheduled
Vienna (VIE)
Ryanair
FR86
20:10
Scheduled
Budapest (BUD)
Ryanair
FR55
20:40
Scheduled
Edinburgh (EDI)
Ryanair
FR7323
20:45
Scheduled
Tirana (TIA)
Wizz Air Malta
W46626
20:50
Scheduled
Turin (TRN)
Ryanair
FR4864
21:20
Scheduled
Marseille (MRS)
Ryanair
FR6316
21:55
Scheduled
Flying To and From Brussels South Charleroi Airport
This page provides information about the destinations that can be reached via Brussels South Charleroi Airport.
Was your flight delayed or cancelled?
You may be eligible to receive up to 600 EUR compensation per person in your party..
Claim Now!
Beat the Queues
Don't stand sweating for 45 mins waiting for Security. Get a fast track and get through in 5 mins or less.
Book now
Lounge like a VIP
Avoid the crowds. Get discounted access to the VIP airport lounge. Its not as expensive as you may think.
Book now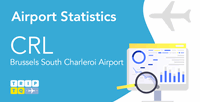 In June 2023, the airport witnessed a remarkable 8.33% increase in passenger numbers compared to the same month in 2019, a pre-pandemic benchmark.